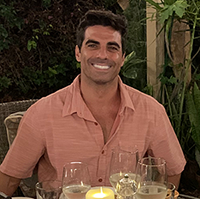 ---
DK Design & Development
---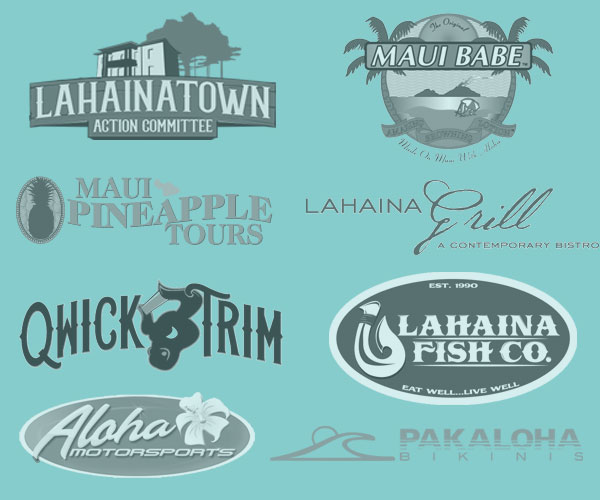 ---
'Sup Internet!
I'm Dan, and since 2005 I've been helping businesses big and small become more successful on the web. I help clients increase revenue, achieve higher search rankings, automate tasks and generally kick butt online.
---
What Clients Say:
"Dan is a pleasure to work with, and he gets it. He'll take what you have in your mind, and add his tech savvy. The results are beyond my expectations, and if something needs adjusting, he's prompt and always understanding."John Severson, Founder of Surfer Magazine & Surfing Hall of Fame Artist
SurferArt.com
"Dan was a great resource in launching our new website in 2015. He is reliable and quick with site updates, and the maintenance that he provides gives us a peace of mind that our site will be up and running!"Allyson Mattox, Director of Marketing
LahainaGrill.com
"Working with Dan has helped us greatly at LahainaTown Action Committee. Our website is modern, up-to-date, and easily promotes our upcoming events. We've also updated many of our internal tasks with his help, saving our staff lots of time in areas like registration for our annual events and accepting donations."Lynn Donovan, LahainaTown Action Committee Director
VisitLahaina.com
"Dan has really helped our website's search rankings. We could not be found at first, but Dan got us on page one for both search and maps."Mina Moghadam, Owner
Mina's Massage Therapy
---
Here's what I can do for you...
Website Development
I make professional websites using WordPress, my favorite framework for website development.
---
SEO Optimization
I have consistently achieved #1 rankings under desired search terms for my clients. All you need is a little know-how...and a plan.
---
E-Commerce
I help my clients increase revenue through the monetization of their website, and help navigate associated tax and shipping rules.
Plugin Development
The biggest difference between myself and other developers is my ability to freely write code and develop my own plugins.
---
Social Media/Branding
DK Design also manages social media. Quit hiring teenagers and see how a professional strategy can increase your social ROI.
---
Ongoing Maintenance
Owning a website requires daily maintenance. Core and Plugin updates are addressed immediately, optimizing security.
Web Development
Some of my clients include Maui's top restaurants, activity agencies and professional service providers. Whether you need a basic informational website, or a feature-rich website including e-commerce and other advanced functions, Dan abides! Note: the mini-portfolio you see here is just a sample of my past work. To see what I'm up to nowadays, contact me!
---
Click or Swipe through some of my past work here.
Maui SEO Pro
---
My formula for SEO rankings has proven effective time and time again. Ask me about what I can do for YOUR website.
---
Case Study #1
CLIENT: PAKALOHA BIKINIS
Search Term: Maui Bikini Shops
Starting Rank: Page 8
Final Results: Page 1, multiple listings
Time: Using my formula for SEO success, it took less than 8 months to move into the #1 spot for the desired search term
Rank achieved organically without paying for Adwords
---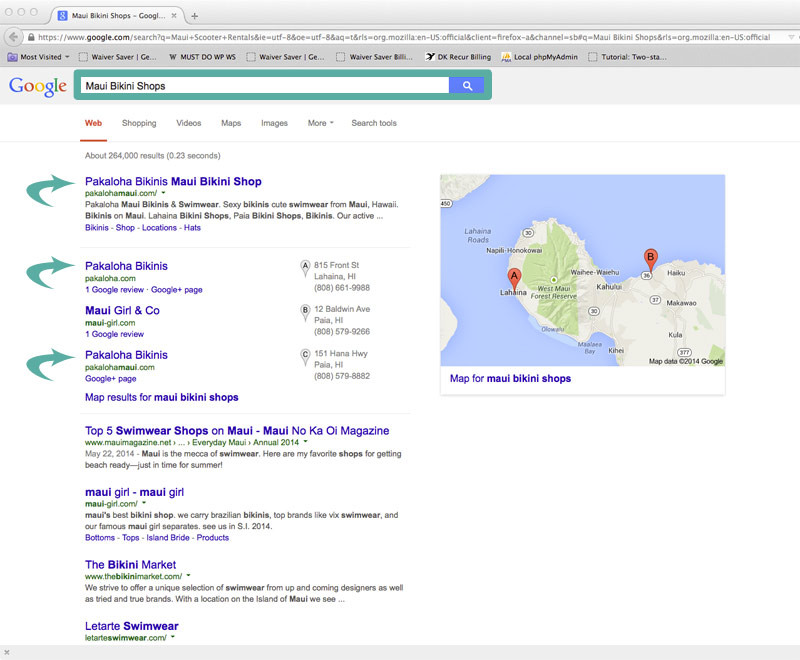 ---
Case Study #2
CLIENT: Aloha Motorsports
Search Term: Maui Scooter Rentals
Starting Rank: Page 13
Final Results: Page 1, multiple listings
Time: Using my formula for SEO success, it took less than 10 months to move into the #1 spot for the desired search term
Proven results for even the most saturated search terms!
---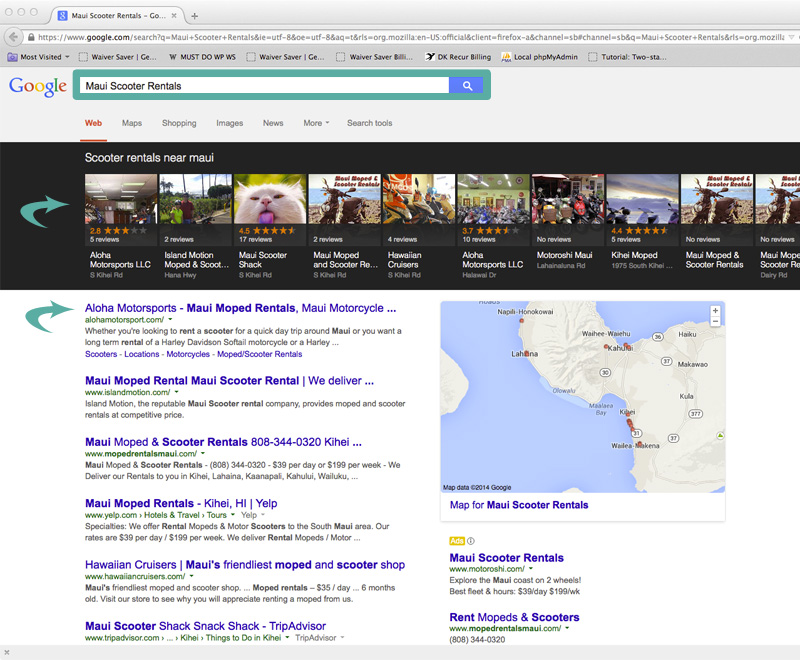 Plugins
There is nothing better than Sublime Text on your screen, Pandora SPOTIFY on the speakers, and a coffee within reach... amirite?
Although there are thousands of plugins in the WordPress Repository, there are some occasions when it is better to roll your own. I enjoy writing plugins for clients as well as for my own personal projects. Contact me if you need advanced functions and customization on your website via a WordPress plugin, or if you need a programmer for other fun projects!
---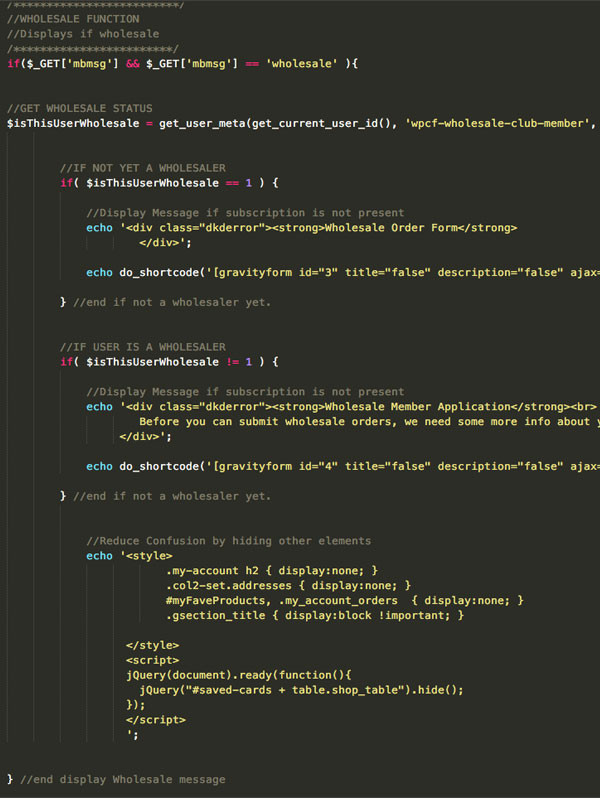 Contact Dan
808-344-7522
info@dkdesignhawaii.com