There I was, logged in to one of my client's websites, ready to perform a standard update procedure, when a notice from WooCommerce caught my eye: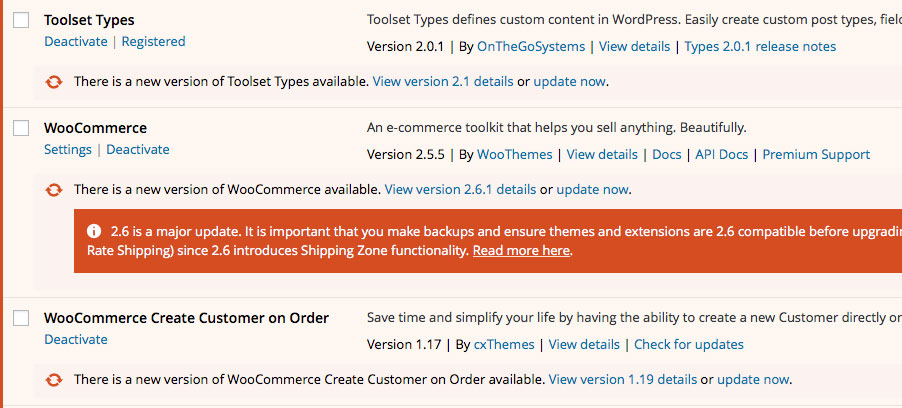 "2.6 is a major update. It is important that you make backups and ensure themes and extensions are 2.6 compatible before upgrading, in particular shipping method extension (Table Rate Shipping) since 2.6 introduces shipping Zone Functionality"
Upon further investigation I found that WooCommerce was drastically altering the way their default shipping function behaved. For many of my clients, this meant that we had to change the way their website calculated shipping costs, and the sooner the better, because the WooCommerce blog stated:
"If already enabled, the old CORE shipping methods will continue to function as-is until disabled. They will be named 'legacy' methods for backwards compatibility.

Whilst this continue to function in 2.6, you should move to zones as soon as you can ideally as they will be taken out for good in future releases."
In other words, ALL shipping methods and protocols that were in place on my clients' websites needed to be re-configured immediately, in order to keep selling their goods online. Without action, a future update of WooCommerce would completely disable shipping on their website, which would essentially grind sales to halt.
The solution was relatively simple, I just needed to transfer all shipping logic (spread out over the previous WooCoommerce shipping methods) over to the new Zone-based method that was introduced in WooCommerce 2.6.
Here's the old method: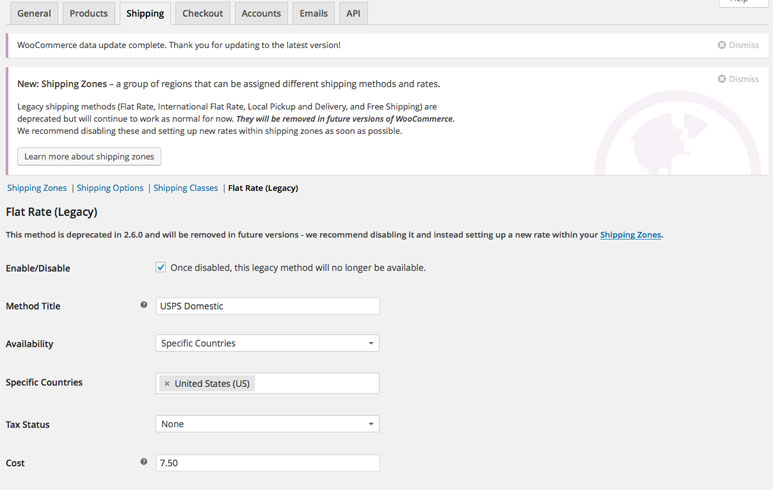 Which needed to be duplicated using the new Zone-based method: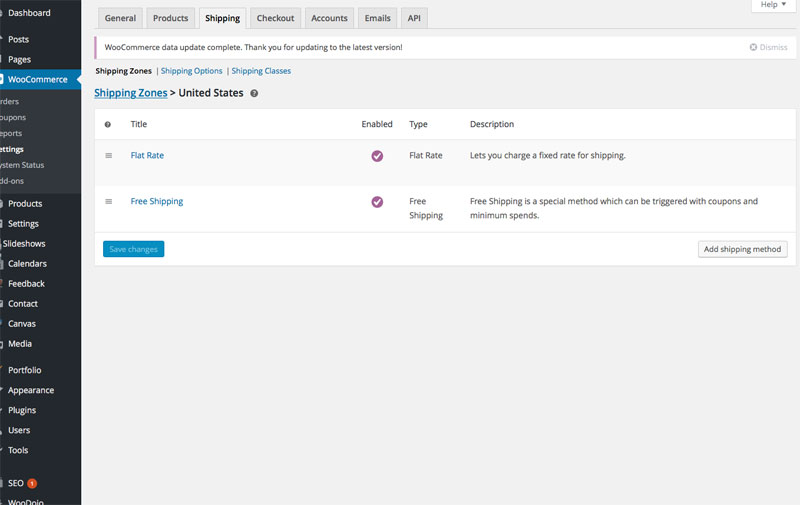 Each zone requires configuration but it was easy enough… the Zone-based method is a big improvement from the previous default shipping protocols prior to 2.6.
The Lesson:
The reason it's so important to note this example is because it illustrates (quite lucidly) the need for professional maintenance by a qualified developer…especially those doing business online. In the above example, a business owner would almost certainly not even notice warning regarding the 2.6 update, let alone know what to do if they were handling WordPress updates in-house. In the case that the owner was brave and plowed through the next few WooCommerce updates while ignoring the shipping warnings, then shipping would eventually disappear on that website completely, grinding sales to a halt!
This applies to any website… because even though this example applies to WooCommerce, the same logic applies to any given website, even those that do not sell goods online. Let's take a plugin like SEO by Yoast… a massively popular plugin which I personally use on just about every site. A major update requiring any transfer of settings or strategic logic would certainly baffle the every day business owner, if they were to even notice the need at all. But the proper configuration of those settings are critical, as the SEO by Yoast plugin is meant to optimize your – you guessed it… SEO.
The bottom line: Misconfiguration of plugins after major updates can lead to reduced performance, poor user experience, loss of SEO mojo, and even lost sales! A website maintenance plan serviced by a professional developer is one small way to ensure that your website stays optimized for search, sales, and success. Plans are cray-cray affordable and can be customized to suit your needs. Please check out my pricing page to learn more!